Manual Breast Pump with Detachable Breast Shield
MS006
Hand Breast Pump, Breast Pump, Breast Pump Manual
Manual Breast Pump with Detachable Breast Shield is a perfect solution for moms to efficiently pump and store breast milk in the volume marked milk bottle. Manual Breast Pump is lightweight and portable making pumping easy and quick when you are on the go. Hand Breast Pump features soft silicone massage cushion which makes pumping more comfortable and stimulates milk flow. The detachable breast shield makes cleaning easy and the non-slip handle provides comfortable gripping. Breast Pump Manual is made with quality materials that are BPA and phthalate free.
Manual Breast Pump conforms to the following safety and performance tests:
EN ISO 13485:2012
EN ISO 14971:2012
ISO 15223-1:2012
EN 980:2008
EN 1041:2008
EN 62366:2008
EN ISO 10993-1:2009+AC2010
EN ISO 10993-5:2009
EN ISO 10993-10:2013
Features
Logo, Color, Gift Box, and Instruction Manual can all be customized.
Soft silicone massage cushion provide extra comfort and help stimulate milk flow.
Detachable breast shield makes cleaning easy.
Ergonomic non-slip handle design.
Portable and lightweight.
Extra one-way valve and milk bottle cap included.
BPA and Phthalate Free.
Specification
| | |
| --- | --- |
| Massage Cushion Material | Medical-grade Silicone |
| One-Way Vavle Material | Medical-grade Silicone |
| Diaphragm Material | Medical-grade Silicone |
| Breast Shield Material | Polypropylene (PP) Plastic |
| Breast Pump Body Material | Polypropylene (PP) Plastic |
| Handle Material | Polypropylene (PP) Plastic |
| Milk Bottle Material | Polypropylene (PP) Plastic |
| | |
| --- | --- |
| Vacuum Range with Silicone Massage Cushion | 0 ~ -200 mmHg (0 ~ -26.7 kPa) |
| Vacuum Range without Silicone Massage Cushion (Breast Shield Only) | 0 ~ -250 mmHg (0 ~ -33.3 kPa) |
| Allowed Vacuum Tolerance | ± 10% |
| Heat Resistance Temperature | 120°C (248°F) |
Contents
1 Manual Breast Pump.
1 Milk Bottle with Cap.
1 Spare One-Way Valve.
1 Instruction Manual.
1 Gift Box.
How to Use
1. Wash your hands thoroughly and make sure that your breasts are clean. Sit comfortably and relax.
2. Press the assembled breast pump against your breast. Center the breast shield over your nipple so that the silicone massage cushion creates an airtight seal.
3. Hold the breast pump body with the part between thumb and index finger. Press down the handle gently until you feel the suction on your breast, and then release the handle so it returns to its resting position.
4. Repeat step 3 rapidly for 5 or 6 times to stimulate the milk flow.
5. Once your milk starts flowing, adopt a slower rhythm by pressing down the handle for up to 3 seconds before letting it return to its resting position. If your hand gets tired, please switch to the other hand to operate the breast pump.
6. On average, using the breast pump for 10 minutes can express 60 - 125 mL (about 2 - 4fl oz) of breast milk. However, this is just an approximate value and varies from woman to woman.
7. Once you have finished expressing, carefully remove the breast pump from your breast. Please unscrew the breast pump body from the milk bottle. Place a silicone nipple or the milk bottle cap with disc onto the milk bottle for feeding or storage.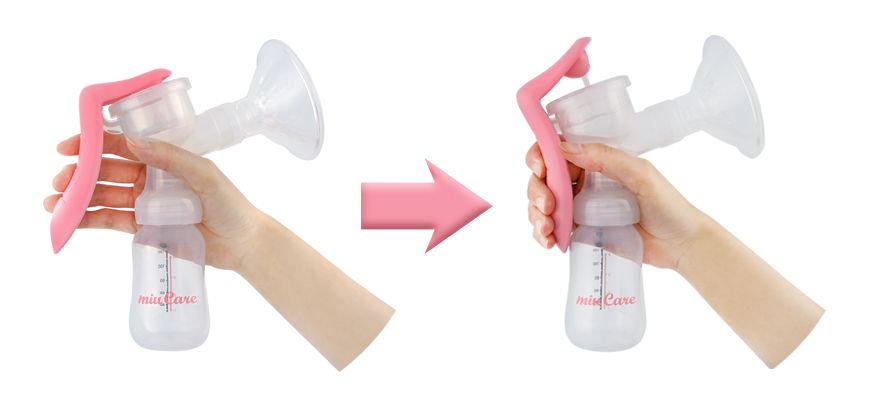 Clean Instructions
1. Clean all the parts of breast pump immediately after use to prevent dry up of breast milk residues and growth of bacteria.
2. Disassemble the breast pump completely into individual parts.
3. Try twisting the breast shield to facilitate the disassembling process, if it is hard to remove the breast shield from the breast pump body.
4. Be careful when removing the one-way valve to avoid any damage to it. Hold the lower end of one-way valve with your thumb and index finger and gently pull down (as shown below) to remove it.
5. Clean all the parts thoroughly with warm water (approximately 30°C or 86°F, mild detergent is fine). Rub gently between your fingers when cleaning the one-way valve. Do not insert objects into the valve, as this may cause damage to it.
6. Dry the parts with a clean cloth, or leave them to dry completely after cleaning.
Regulations
CE, FDA
MOQ & Shipping
Low MOQ for our standard color box packaging.
MOQ is 500 sets for custom packaging.

This product can be shipped globally.
Custom Color/Logo
Besides our standard pink color, colors of the Manual Breast Pump can be your choice. We can make the handle, milk bottle base, milk bottle cap, and disc any color you prefer(MOQ 500 pcs), please find the below photo for your reference. You may also choose to have your logo printed on the milk bottle, in order to promote and strengthen your brand image to the consumers. Choose a color that is eye-catching to the consumers and we will help you launch the product on the market in your brand name and build your brand image.
Photo Gallery

Movies

Related Products

MH04007

Hands Free Breast Pump Bra offers maximum comfort and the freedom for you to work on tasks...

Details

MH04001

Microwave Steam Sterilizer Bag eliminates 99.9% of common bacteria and germs. Microwave Steam...

Details

MH04002

Breastmilk Storage Bags are perfect for refrigerating or freezing breast milk for later use....

Details

Files Download

Our Manual Breast Pump helps moms pump and store breastmilk efficiently with ease and comfort. Our manual breast pump is in compliance with FDA and CE regulations....

Download

Asia Connection has been assessed and certified as meeting the requirements of Medical Device Directive 93/42/EEC for its Powered Nasal Aspirator by SGS Belgium(Notified...

Download

Asia Connection supplies a broad range of emergency medical, infant care, and homecare products for our customers overseas. Our full range of products...

Download
E-CATALOG Download
Browse our catalog for a variety of medical and homecare products.
Download
Any question or inquiry?
Email us: info@asiaconnection.com.tw
Thank You.
More Details
Manual Breast Pump with Detachable Breast Shield | FDA-Registered, ISO-Certified CPR Masks and Face Shields Manufacturer | Asia Connection
Located in Taiwan since 1993, Asia Connection Co., Ltd. is a medical and homecare products supplier. Their main products, including Manual Breast Pump with Detachable Breast Shield, Nasal Aspirator, Breast Pump, CPR Mask, Pocket Resuscitator, Nasal Cannula, Oral Airway, Mesh Nebulizer, Head Immobilizer, Air Cushion Anesthesia Mask, Stethoscope, etc.
Asia Connection specializes in medical and homecare products that are indispensable in ambulances, emergency rooms, and other critical care settings. Ensure optimal patient outcomes with our high-quality products. Whether you prefer disposable PVC or reusable Silicone, Asia Connection provides a range of Manual Resuscitator BVMs to meet the diverse needs of hospitals and wholesale buyers.
Asia Connection has been offering customers high-quality medical and homecare products such as resuscitator BVM and nasal aspirator since 1993, both with advanced technology and 40 years of experience, Asia Connection ensures each customer's demands are met.
View our quality products
Bag Valve Mask
,
CPR Resuscitator Mask
,
Oral Airways
,
Endotracheal Tubes
,
Laryngeal Mask
,
Silicone Masks
,
Sterile Suction Catheters
,
Stomach Tube
,
Suction Tubing
,
Anesthesia Masks
,
Oxygen Mask
,
Oxygen Regulator
,
Tourniquet
,
Bandage Scissors
,
Cervical Collar
,
Spine Board
,
Stethoscope
,
Blood Pressure Monitor
,
Thermometer
,
Nasal Aspirator
,
Nail Trimmer
,
Breast Pump
,
Maternity Belt
,
Mask Harness
and feel free to
Contact Us
.